The days of traditional security systems are coming to an end. New smart technologies coupled with wifi, Bluetooth, Z-Wave and more are changing the way the entire home security works. There is no better example of a disruptor than the SimpliSafe Home Security System.
Unlike traditional systems, SimpliSafe is a more do-it-yourself option that offers a range of more common-sense features that other traditional systems do not offer. Couple this with a no-contract deal at, as of writing this, $14.99 a month, makes the SimpliSafe system a game changer.
Benefits of the SimpliSafe Command System
No Annual Contracts, $14.99 a month 24/7 monitoring
Here's the thing: You can't beat the price for the service you receive. Sure it's not a full system from ADT, but for only $14.99/month you get 24/7 coverage that gives you the peace of mind that your property is safe and secure.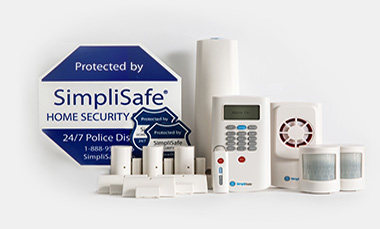 DIY, no additional expansion charges
The system takes less than an hour to setup and has no problem going from the bottom corner of my 2500 square foot home to the top corner on the second floor. Everything is wireless so there is no need to run lengthy wires and you can expand as much as you please. Traditional companies typically charge for additional sensors, keypads, etc. but not with Simplisafe!
Cellular with battery backup
Instead of being connected through a traditional phone wire that can be cut, Simplisafe transmits a cellular signal to alert first responders the alarm has been tripped. This prevents career-burglars from going straight to your phone line to prevent the signal from going through
Crash and Smash Proof
In the early days of home security systems, burglars figured out if they smashed the 'brain' of the system fast enough, this would prevent a signal from being sent. Simplisafe's system has changed this so a signal is sent to the call center when the alarm is tripped, then sends another signal giving the all clear after the code has been entered.
20% homeowner's insurance discount
Some major insurance companies such as GEICO, Nationwide, Progressive, Farmers, etc. offer anywhere from a 5% to 20% discount on your homeowner's insurance premium with the SimpliSafe system. Other insurance companies may offer discounts as well, so be sure to contact your agent to find out more.
Smart phone integration
With most smart home security systems you can do the basics, such as arming or disarming; that's a given at this point. However, this system provides the ability to do more like check event logs, monitor home temperatures, and be alerted in the event of burglary, fire, or other sensor being tripped.
Keypad dimming effect
This is something that is small, but a feature I think that could have easily been overlooked and been detrimental. Consider this situation, someone breaks into your home and the alarm goes off. The burglar is not deterred, but rather is looking for the system so he can destroy it or turn it off. If the system is still lit up, this makes the task of finding it much easier, but the SimpliSafe system dims upon the activation of a sensor, thus 'camouflaging' itself.
Easy mobility
The fact the system is wireless and doesn't require a contract are huge positives for me. What makes this even better is this system can easily be moved from apartment to apartment or home to home. You can continue to use the same equipment regardless of where you may end up and not have to pay any additional fees.
Drawbacks of the SimpliSafe Command System
Inability to name the sensors
This may be minor to some people, but if I receive an alert that a sensor has been triggered, I would want to know which one it is. For example, if I'm upstairs and I receive a notification that a door has been opened, I would want to know which door. Is it the front, the back, side door, garage door? I feel this kind of information is important to have if there is an intruder.
SimpliSafe will not cover malfunctions
This is pretty standard across the industry, but if for some reason the system malfunctions for [Insert Your Reason Here] the odds of them compensating you for it are little to none. A good example of this is if the system is triggered because of some unknown problem and the police end up at your front door. You'll most likely be charged some fee from the city, which SimpliSafe will probably not cover.
Battery operated control panel – no low battery indicator
Since the control panel is not hardwired in, that means it requires some sort of external power, aka batteries. I'm not one to buy the cheap dollar store batteries, especially with something like this, but without a low battery indicator it doesn't matter what kind I have in there if I can't tell how much juice is left.
Potentially can be hacked?
Several months ago, as of writing this, there were rumors going around the system could easily be bypassed with some radio frequency know-how and some info found in YouTube videos. It appears that SimpliSafe addressed this in a post on their website, but the fact it can could have been done so easily makes me question other security aspects of it. Regardless, the majority of burglars do not have this kind of knowledge and would have to know you have this specific system before even attempting it. The odds of this happening are minimal and SimpliSafe claims there have been no reports of this 'hack' successfully being performed out of a controlled environment.
Technical details and compatibility
| | |
| --- | --- |
| Part Number | 680569237705 |
| Item Weight | 4.1 pounds |
| Product Dimensions | 13.1 x 12.5 x 6.5 inches |
| Origin | USA |
| Item model number | SSCS2 |
| Batteries | 4 CR123A batteries required. (included) |
| Color | White |
| Batteries Included? | Yes |
| Batteries Required? | Yes |
| Average Battery Life | 26280 hours |
| Warranty Description | Three year warranty against manufacturer defects |
Summary
This system is a great value for the money plain and simple. You're not going to find a better deal on around the clock monitoring with another human being able to assist for less than $14.99 a month. While there are some drawbacks, this system is perfect for everyone whether a young couple who has moved into their first apartment or new retirees who just want a little more peace of mind.
Would you still rather opt for a traditional system? Read up on how ADT is countering the DIY Smart Home Security Movement.
Waiver: This article is for informational purposes only. Before making any home security alarm purchases or setups, it is recommended to contact a home security expert who can provide information on the latest standards and best practices that should accompany your decision. TheSmartHomeReview.com is released from any liability that may result from the reader's actions after reading any article on this site.